Kak Long came home for a week holiday from the 6th to 13th August. She had 2 photography assignments. One of them is to take photos of a waterfall. Before she came home, on YM one day she asked whether there is a waterfalll nearby our place, of course there is. I told her. There's the Titi Kerawang in Penang, there are Lata Hijau and Arus Deras Sedim in Kedah, which are quite famous here and another one in Junjung at the border of Seberang Prai (Penang) and Kedah.
Unfortunately, we were busy on the weekend, otherwise we would have turned that trip into a family picnic. A day of fun at the waterfall. In the end it was hubby who was on leave on Monday 7th who took Kak Long along with Angah and Sya to the waterfall near Junjung. Ayin didn't follow because she was fasting and I was working. This is the nearest to out place. Kak Long had a wail of her time clicking away her camera with different setting as required by the lecturer. The other two girls were having so much fun splashing in the water.
Air tenang jangan di sangka tak ada buaya......
No lah, sini tak de buaya, buaya darat mungkin ada kut hehehe.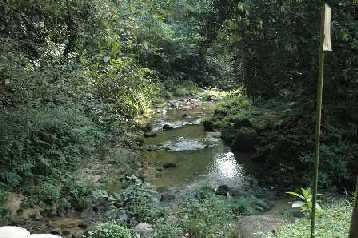 Kalau suka duduk dalam hutan, tempat ni sesuai lah sebab ada punca air :-) Tapi jaga-jaga lah...... kut kut ada tok rimau ke, singa tersesat ke (so far tak pernah lah jumpa lagi).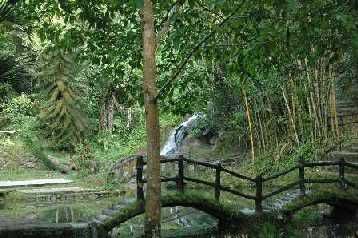 So very serene.....
That's the waterfall. MasyaAllah, so beautiful. Tapi taklah gah macam Niagara Fall.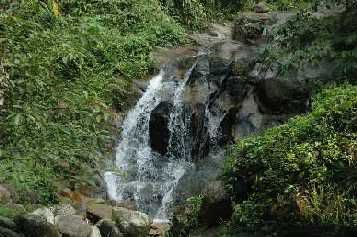 Anybody wants to come here ? Come lah we can go for a picnic one fine weekend.




Bestnye kalau dapat mandi kat sini...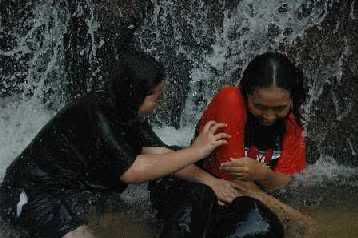 "Seronok nya depa main ayaq, tak sejuk ka?"