After 29 years!!!
Yes, it has been that long since my classmates and I left the boarding school in Johore Bahru. Before we left, we actually promised to meet again like after 10 years. But possibly because, none of us really make the effort to keep all the contacts and update all the changes in addresses, we drifted apart. We were busy trying to make a name for ourselves in the career world as well as building the family etc, etc. Excuses after excuses, will not actually eliminate the fact that we did not try to keep in contact with each other. Only a few within groups were in contact. Many we have lost, not knowing where they are right now.
From my old pictures there were 36 of us in the class, but in my list right now there are 39. There were 2 students from Sabah who were not around after LCE and one of the Trengganu girl, did not want to be in the Science class, she prefered to go into Arts Stream. I can imagine my friends jaws dropping "who do we forget?" you girls may be asking. We all forget Saadiah actually.
Fast forward, the re-union was actually thought off when NS came to Penang a few months back ( I wrote how I and another friend went to have dinner with her). NS actually set the date to be 6th August because Moon is coming home from the UK. But we just let it ride until almost the last minute before confirming the date and venue. Aya and her husband Dr A were nice enough to be the host.
I travelled from Penang early Saturday morning, it was a good date since I could kill 2 birds with one stone. Send my daughter back to her college and at the same time join the re-union. I was the first one to arrive at Aya's place at around 2.30pm. We were supposed to gather at 3.00 pm. Hubby sent me to the place and left me there. The girls did not want to join in since they know that when mama meets her friends, they will be forgotten. "Mama lupa diri tu nanti, kata diorang". Can they blame me? So they left with their father to SIL's house.
I was met by Dr. A, Aya was no where to be seen, according to him, she was performing her solat as she had just arrived from Kuantan. I asked permission to do the same and was shown into a room. After, we had finished our solat then only Aya popped in to see me. She was told that someone from Penang had arrived and couldn't figure out who. We hugged and start talking and later adjourned to her kitchen. She told me that 6 August was the 5th annivessary of her lost (her only son passed away on this date). Despite that, she and Dr A were very accomodating. Bless you Aya and family and Al-fatihah to arwah.
Soon the others started to arrived, one by one and we were shreiking so loud as we hugged each other. Wow, it was really a moment to remember. As I was hugging my friends Ayin called to tell me that she and Angah were going to see the AF3 final concert with their cousin brother and sister. I was like intermittenly interupted while talking to her she passed it to her baba. I told him, I'd be fine and I would get a lift from one of the ladies to go back to SIL's place.
Not all of my friend came to the re-union, only 19 of us. Supposedly, another one who came all the way from JB was supposed to join us, but she was locked-in her aunty's house unfortunately. Deed, we were really sorry you couldn't come, we even suggested that you climbed out of the gate. But, at our age? Surely tak sesuai kan? Hehehe. We missed you anyway.
Some came with husbands, some with children and some with both. Many also, like me who came single. OMG, we did manage to really be so loud. I was very thankful, my hubby and children were not there, because I was then able to mingle freely with the girls. Riuh rendah dah sampai tak ingat suami dan anak-anak dah tu!!!!
I recognise all of them, but alas there were a few who did not recognise me. Basically most of us looked the same, albeit the "kembang semangkuk dua tu" and of course the mature lines (I am not saying wrinkles OK, :-)) on our faces. But looking back at the photos, I must say I looked different, older and wiser to the world. I don't blame them for not recognising me.
At the gathering I again felt the warmth and the love that we had for each other. We were a naughty lot, very boisterous and loud, our classes were always at the corners or directly above the headmistress office. But that did not stop us for being so noisy and naughty. We were still very loud when we gathered, reminescing the good old days. We were very close, so much so that we hug and kiss each other when prep time was over and we were just going back to our hostels. Just going to apart for a few hours before we would again meet in class the next day. :-) :-) Jiwang betul kami dulu-dulu tu.
Now, although most of us are still working there were a few who have retired and become full time housewives. We did not feel that the status was the stumbling block between us. We were just Fiscone (Five Science One) 76 as we called ourselves. Eventhough there were Doctors, lecturers, teachers, GM of a GLC, a factory worker (me) and housewives, we were just so happy to be in each others company.
I and Kay (cewah glemer nama hang ni) brought our old albums and Kay's album no longer looked like an album when she left. We were able to see who changed and who didn't.
To Aya and Dr A - thanks so much for having us at your house. Hopefully our loud chatter did not cause the neighbours to be apprehensive. You both were really hospitable. You put away your sad memory just to accomodate us.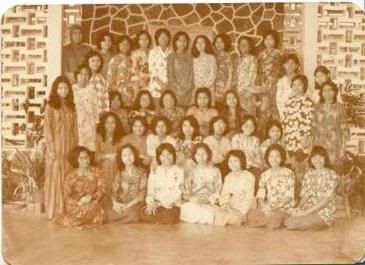 Dara-dara pingitan beraksi di porch sekolah
Class of Five Science One 76
Tarik nafas, control ayu......
Makcik2 beraksi dengan second generation (not all)...